The Narozanski North Realty Team
Kimberly-Ann Narozanski
Kimberly-Ann Narozanski, Broker of Record, is the sole proprietor of Narozanski North Realty Inc. and leader of the Narozanski North Realty Team. In Kim's own words "we are a real family business and that makes the difference." She is the eldest of seven – from a "tight" family nucleus, and has lived in Northern Ontario all of her life.
Kimberly's portfolio represents 'simply the finest' properties the area has to offer. As a Top Professional in the North's Real Estate Market, her years of record-setting sales that reflect her focused knowledge and expert marketing and know-how benefits all of her Clients. Kimberly's knowledge and expertise are unparalleled.  Her portfolio of real estate representation is in a class by itself and without comparison.
She joined the family business well of 40 years back and has an expansive knowledge of the area and all that it has to offer.
She is a skilled negotiator, able to navigate and explain complex transactions, knows how to ask the right questions and obtain information quickly, and understands what it means to be a true advocate for her clients.
Working with both Buyers and Sellers is key to her keen understanding of how to help her Buyer clients come out on top in competitive multiple-offer scenarios, and to helping her Seller clients get the best price and most solid terms possible.  She is known to her clients for her communication skills, problem-solving prowess, patience, and candor.
Kim is dedicated to supporting her clients through their Real Estate transactions with the highest degree of service and professional expertise. Personal attention is what Kimberly's clients expect and deserve. With her uncompromising dedication to service, she sets the very highest standard to inform and guide her clients. Among her many letters of appreciation are such quotes as:
"proactive and can-do attitude"
"accessible, hands-on and oh, so personable"
"negotiating skills a god-send"
"so impressed by you and your team's professionalism and talent"

Vicki Lynne Harrison
Vicki Lynne provides all-around back-office support to the team and exemplifies Kimberly Ann's commitment to service.  Her knowledge and expertise reflect over 30 years in the entrepreneurial and self-employment field that encompassed her knowledge of finance and accounting.
Vicki Lynne's exceptional skills in personnel management help keep the team well informed of production deadlines and overall commitments to our clients.  Her highest ethical standards, loyalty, proficiency, and ability to quickly problem-solve have been an asset to Narozanski North Realty Inc., and Kimberly Ann personally for over two decades.
Vicki Lynne serves as the voice of reason in an incredibly fast-paced environment, keeping the office running at a manageable level with staff reflecting the high ethical standards by which we work.
Vicki Lynn is our Director of Operations – "Our Governor General"

Ginette Nicole Dionne
Ginette Dionne serves as a seasoned "right hand" professional, covering all aspects of the real estate spectrum.  She is Kimberly Ann's full-time, personal broker's Executive Assistant, a title which is well deserved.
She is always available to our clients and the Narozanski North Realty Team, with her ever-positive attitude and rapid response to multi-tasking, and there is a lot of multi-tasking!
She ensures that Kimberly Ann's service is "above extraordinary."
Ginette is fully bilingual and this offers a market niche in effective communication to the Francophone population.
She has been a loyal and trusting associate, employed with our agency for over 25 years.
Ginette also resides in the French Riviera with her family.
This is a most responsible and capable individual … she is our "Super Girl."


Donalyn Clair
Donalyn serves as a right-hand to Ginette, Kimberly Ann's Personal Assistant.  She is always available to clients and the team with an ever-positive attitude and rapid response multitasking skills.
Donalyn ensures that the team's service is above the ordinary.  She coordinates important benchmarks of the marketing, listing policies and procedures, and manages front office organization.
Her unique talents in photography and creative writing are synonymous with many elements of our marketing.  Her boundless energy and professionalism perfectly complement our team.
Her warm rapport with clients reflects her personal passion for dealing with animals and animal rescue.
"Donalyn is a treat both professionally and personally"

Sarah Helen Narozanski
Finding the amazing, while scrutinizing every detail, is a way of life for Sarah.  She will make sure to find a property that fits your taste and style.  Sarah has worked in the real estate environment for a decade and was trained under her Broker as an assistant.
Prior to Real Estate, Sarah offers over 12 years of experience in retail and management.
Sarah is focused on ensuring efficiency and superior customer service while working diligently to exceed expectations, and is always available to Clients and the team with her ever-positive attitude and rapid response/multi-tasking skills.
Sarah works closely with our team and her Buyers love her tireless efforts to find the right home and work to negotiate the best terms in any market, and her Sellers couldn't imagine the process without her circumspect management of the entire process.
While Sarah makes her work appear effortless and even fun, this is by careful design, the results of working diligently with our team, and hard work.
She believes that homeownership is one of the most important events in her clients' lives, and she is here to help them make that happen.
Whether you are thinking of buying or selling, Sarah is here to work with you.
"Let Sarah maximize your results with her extensive networking and experience in the market"

Christopher Michael Narozanski
Christopher joined Narozanski North basically from the beginning and has continued in real estate and property management for the past 26 years.  Since beginning his career as an insurance agent with Michael Narozanski Real Estate's his reputation has grown and has become a protege of high-end rental and property management.
Christopher has worked directly alongside his sister Kimberly for many years and offers his vision and passion and substance to the team.  He has been directly involved in many major milestone projects in the City of Sudbury and has been intimately involved in the acquisition and sales of large corporate projects.
During his tenure at Narozanski North, Christopher has guided the team through numerous construction projects and his peerless insight and expertise inform and influence the decisions of many future projects.
Christopher has stated that building on past successes, we continually innovate and develop!  He believes that we constantly reinvent ourselves by anticipating changing times and evolving client needs.
Christopher "our property rental resource"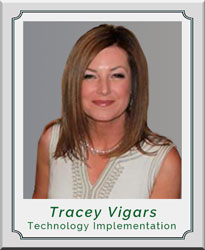 Tracey Helen Vigars (Nee Narozanski)
Tracey's responsibilities include keeping us up with 21st-century technologies to help us work more efficiently.  Her ability to assess situations from an objective standpoint and make recommendations to implement a more efficient working environment has been invaluable.
Tracey loves the diversity of her job and thrives on finding solutions to any challenges.  Her vast years of experience in a variety of positions, from a community volunteer to a partner of an international fundraising solutions company, have brought the value of flexibility and objectivity to our agency.
Tracey also grew up in Northern Ontario and understands the extraordinary geographic area in which she lives, and the opportunities available to those looking for property in this beautiful and peaceful part of our province.
"Tracey just "makes it happen."

Dan Gauthier
Dan is our resident and long-time handyman.  He has been in loyal service to Kimberly Ann for over 15 years! From plumber to electrician … builder to fixer of all things broken, it is a known fact that we could not function without Dan.
Always in great spirits and ready to handle any job, he is an important part of our team, ensuring our working environment is always functioning.
Dan resides in the French Riviera where he enjoys hunting, fishing, snowmobiling, four-wheeling, and all activities outdoors.
He is well versed in the many area waterways which has proven to be a valuable asset to Kimberly Ann's many listings which are water accessible only.
Dan also enjoys his role as a fishing guide at the peak of the fishing seasons.
Dan is and always will be "Dan, our handy, handyman."



George Brazier
Always Smiling … That's George! George has ensured that when we list, the signs go up.  In fact, when you drive through our geographic area, it will be clear just how busy George is.  He is our in-house Sign Installation Expert and valued member of the Narozanski North Realty Team.
Whether Kimberly Ann is listing an island on the French River, a remote property with hundreds of gorgeous acreage, a cottage, marina, lodge or home, George will make sure you know where you are going, and will direct you right to the door with his impeccable directional ability.
When George is not installing and maintaining signs, he is Dan's right-hand man.
George has lived his lifetime in the area and is also an avid outdoorsman.  He knows the area like the back of his hand which is probably why he is best suited to sign installation and all things directional.
"He is a loyal and important part of Kimberly Ann's diverse team."

Michael Narozanski – Founder
Narozanski Family Realty was founded on the principles of fairness and honesty.
Michael & Beverly started the Real Estate company based on beliefs in a basic and simple philosophy of providing the highest level of quality service to our customers and clients.
Our Family of real estate professionals have serviced the community with a stellar respect and reputation among the Client & Agent community that has been earned through six decades.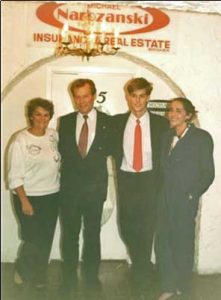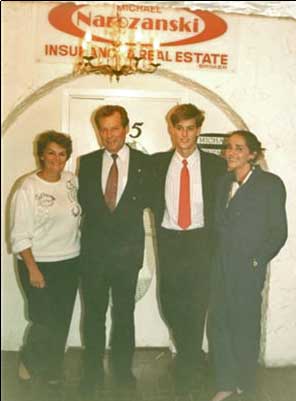 Michael's & Beverly's handling of the most exquisite and unique properties over their lifelong career in Northern Ontario has elevated expectations for what is possible for our firm, the community—and our Clients— they listen.
Michael is an experienced professional who seamlessly cooperated as a first in the industry.
Beverly has passed, Michael is there for the Narozanski North Realty Team & Family as an encyclopedia of information when called upon – at all times!
Michael turns 91 this year at his Lakefront Retreat on Manitoulin and continues to live life to its fullest!
*** Stolat – Dad